As the festive season approaches and Edinburgh's vibrant hospitality scene comes alive, there's no better way to immerse yourself in the city's spirited atmosphere than by venturing on the ultimate Edinburgh bar crawl.
With this in mind, we've mapped out the ultimate Edinburgh bar crawl to help guide revellers around the best drinking spots in the city. Whether you're a local looking to uncover hidden gems or a visitor eager to immerse yourself in some of the best establishments Edinburgh has to offer, this bar crawl will take you on a fun journey through one of our favourite Scottish cities! 
The ultimate Edinburgh bar crawl
How did we do it?
To determine which bars would make it, we analysed Google reviews to identify the Edinburgh bars with 1,000 reviews and over, and an overall rating of 4.5 and above. This resulted in a total of 17 hotspots being plotted on our new downloadable map. 
The bars 
Our bar crawl promises a full day of enjoyment, making it an ideal choice for spending time with friends or as a festive option for a work Christmas social. Considering the most efficient walking route, 'The Hanging Bat' on Lothian Road is the starting point for the crawl, ending with 'Whiski Rooms' on Bank Street. 
The list of bars in order of completion include: 
The Hanging Bat (Lothian Rd) 

Teuchters (William St) 

Panda & Sons (Queen St) 

The Black Cat (Rose St) 

Hoot the redeemer (Hanover St) 

The Guildford Arms (Register St) 

Black Bull (Leith St) 

The Piper's Rest (Hunter Sq)

The Banshee Labyrinth (Niddry St) 

Stramash (Cowgate) 

The Jazz Bar (Chambers St) 

Brass Monkey (Drummond St) 

Paradise Palms (Lothian St) 

Sandy Bell's (Forrest Rd) 

The Bow Bar (Bow) 

Jolly Judge (James Ct) 

Whiski Rooms (Bank St) 
Landmarks along the way
While on the bar crawl, participants are promised to spot some of Edinburgh's most famous landmarks and attractions, including Edinburgh Castle, populated in the centre of the crawl. St Mary's Episcopal Cathedral is close to stop two, 'Teuchters' and The Scott Monument can be found near stop five, 'Hoot The Redeemer'. The National Museum of Scotland is located between 'Sandy Bell's' and 'The Bow Bar'.
Making the bar crawl your own 
It's been so much fun creating the ultimate Edinburgh bar crawl for locals and tourists alike. It's a lengthy route with many stops, but of course, participants can shorten the route if they'd like. The real aim of this crawl is to celebrate some of the best bars Edinburgh has to offer and to check out some of Scotland's popular landmarks and attractions along the way. 
Of course, there are many bars that we love and recommend that haven't been included in this map because if we did, the crawl would be never-ending! However, if you'd like to deviate from the mapped bar crawl or add in some extra locations, some of our favourite bars and pubs (where Tri Carragh is also stocked) include:  
The Athletic Arms (Angle Park Terrace) 

O'Connors (Broughton Road) 

The Abbotsford Bar (Rose Street) 

The King's Wark (Shore, Leith) 

Tipsy Midgie Whisky Bar (Leonard's Hill) 
To experience the bar crawl for yourself, check out the printable map below: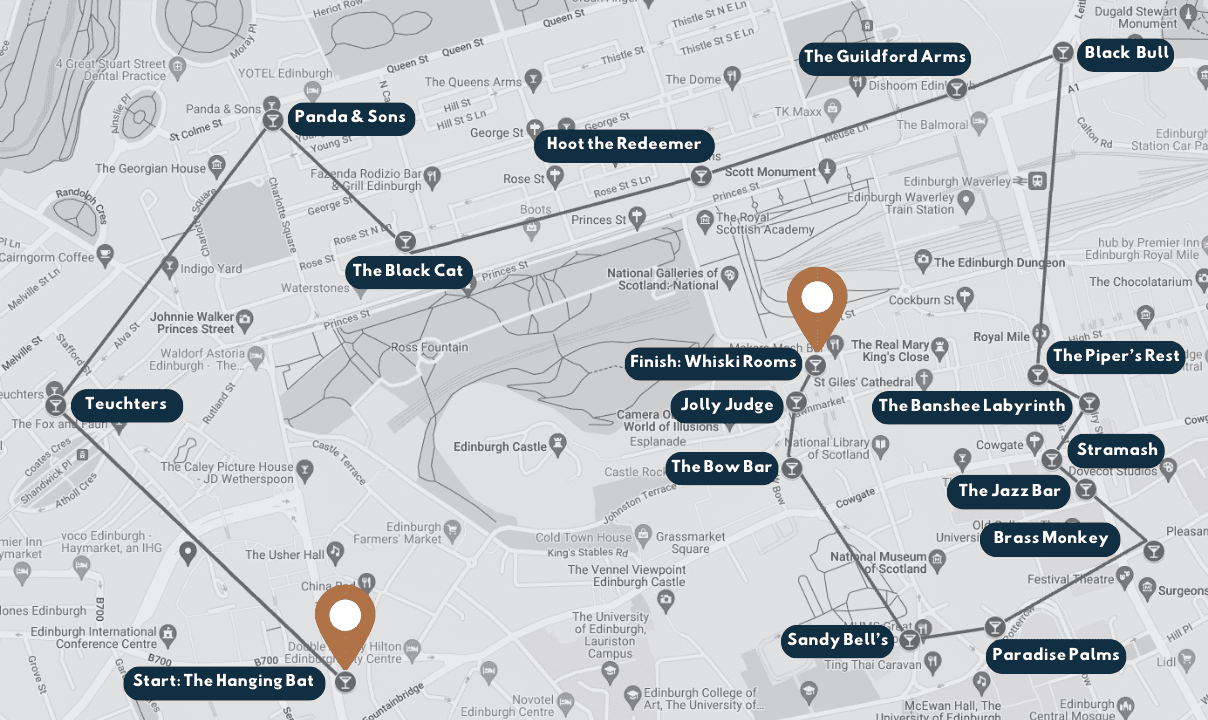 Download here: The Ultimate Edinburgh bar crawl
Interested in trying out our whisky in the comfort of your own home instead? Please visit: https://www.tricarragh.com/third-release/ 
To keep up to date with our latest news and releases, follow us on Instagram, Facebook, LinkedIn, and Twitter. 
Methodology
 To identify the 17 bars included in Tri Carragh's new bar crawl, we analysed Google reviews and chose the bars which had 1,000 reviews and over and an overall rating of 4.5 and above (choosing locations which were listed as either bar or cocktail bar). The 17 bars identified were then plotted on Google Maps to create an efficient walking route. 
Tri Carragh strongly encourages responsible drinking and reminds everyone that participation is limited to legal drinking age adults, over 18.