From must-have spirits and mixers to go-to glassware and garnishes, we chatted to fellow spirit experts to share how to host a happy hour in the comfort of your own home. 
Following an increase in interest for the search term 'entertaining at home'¹ over the past month, we spoke with bartenders and mixologists to discover how to create the perfect at-home bar: 
1. Make space
You don't have to create a fully working bar to enjoy happy hour at home. A small bar cabinet, bar cart, or console table will do the trick. We suggest placing a drinks trolley or cabinet in the entryway of a kitchen or living room. Placing your at-home bar in one of these rooms is recommended, as this is where most of the activity happens in the home. 
Setting up the bar by the entryway is a nice way to welcome guests in, and from a practical point of view, keeping the bar out of the way in an area which could become crowded is always a good idea to avoid spillage and breakage – we don't want any wasted cocktails!
2. Pick the right spirits and mixers 
Dee Humprey from the Bristol Syrup Company says: " As with most things in life, when it comes to stocking a home bar, quality over quantity is key. With the right selection of ingredients and equipment, you can make award-worthy cocktails all summer long.
"The best place to start is with the spirits. Personally, I'm a whisky and tequila girl, so I always make sure I've got a couple of good bottles of each, plus a decent gin and my wildcard ingredient, triple sec. With this handful, you'd be surprised how many amazing cocktails can be made, including the Penicillin and the Margarita."
David Robinson, Global Brand Ambassador at Franklin & Sons, believes vodka, rum, vermouth, bitters, and sweet liqueurs are top alcohols to have on your drinks trolley. Regarding mixers, we suggest tonic water, juice (lemon, lime, orange, pineapple, and cranberry), syrup, grenadine, coffee, sours, and milk or cream. 
David continues: The importance of ice is often overlooked, even though almost all cocktails require it for chilling and diluting! To help ensure a lasting supply at home, a good hack is to utilise any old takeaway containers you have lying around. Simply fill these with water and place them in the freezer. You will need to break these blocks of ice down by hand, and whilst they may not be pretty, they will help to ensure a lasting, reusable supply of ice that will allow you to make even more cocktails and drinks at home."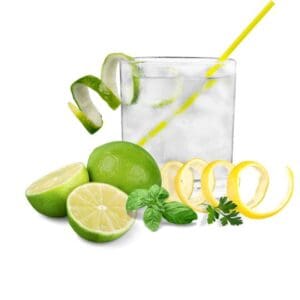 3. It's all about the garnishes
By incorporating thoughtfully selected garnishes into your cocktail, you infuse each drink with an extra layer of sophistication. Our garnish go-tos include edible flowers, olives, coarse sugar and salt. 
David at Franklin & Sons thinks citrus fruits and herbs are must-haves: "Having an array of garnishes ready for your drinks is always a good idea, especially fruit garnishes such as citrus fruits like lemons, limes and oranges. The fresh juice and oils that these provide add great aroma and flavour to drinks, elevating them even further – it's simply a case of finding the fruit that best accompanies your drink. Fresh garnishes are always preferable, though if you have an air fryer with a dehydrator setting at home, you can dehydrate the garnishes, allowing them to keep for longer whilst still holding their flavour.
"Herbal garnishes such as mint provide fantastic aroma and colour to your cocktails, and though usually a staple of bars, they can also be utilised at home. Remember to avoid waste where you can and be sure to use any leftover herbs or stalks for cooking and infusions, such as oils and syrups." 
4. Be professional with accessories and gadgets
David says that a cocktail shaker, strainer, barspoon, and jiggers are essentials for an at-home bar: "Shakers come in various sizes and styles, usually consisting of two or three separate pieces. Simply add the ingredients for your cocktail along with ice and shake vigorously to mix, dilute and aerate the ingredients inside before straining them into your chosen cocktail glass. Also, remember that not all cocktails are shaken, many are stirred down, such as the Martini and Old Fashioned. 
"There are different styles of strainer, each with its own unique use. Using both a Hawthorne and 'Fine' strainer will allow you to make quality cocktails at home, with the Hawthorne used to hold back larger chunks of ice from your shaker after mixing and the 'Fine' strainer used alongside it to keep small ice chips and pieces of fruit behind to ensure your cocktail is smooth.
"Barspoons are longer and more nimble than traditional spoons, allowing you to mix your drink more efficiently. Even a simple mixed drink, such as rum and cola, benefits from a barspoon, as it allows the maker to mix the rum throughout the drink and allow the flavour to carry throughout the serving.
"A Jigger is simply used to measure out alcohol and other ingredients before adding them to your glass or shaker. They come in many different styles and allow you to accurately measure the desired ingredients, making your drinks better balanced after mixing.
5. Glassware matters
Dee says: "There's no point in spending all that time and money on making cocktails if there's nothing to serve it in. There are numerous different styles out there, but you can't go wrong with a selection of rocks glasses, hi-balls, and stemware such as coupes. Charity shops have a great assortment if you don't mind shopping around and a bit of a mismatch."  
We think it's so important to pick the right glass to match the drink, as each type of glass is designed to enhance the tasting experience. You wouldn't think it, but the shape and size of a glass can impact a drink's aromas and taste. Also, if you make a whisky, cocktail, or other drink in the right glass, it enhances the overall experience, and personally, we think it makes a drink more enticing.
6. Storage is important
We recommend storing spirits and alcohol at room temperature. Storing spirits like whisky in a warm place can cause oxidation, ultimately changing the flavours over time. We'd also suggest not storing spirits on their side, unlike wine. This differs between spirits, but taking whisky, for example, should be stored upright. If not, keeping the cork immersed in a high-ABV will eventually make it disintegrate.
 
Having an at-home bar adds an extra touch of comfort and hospitality to your living space. It becomes a place where you can unwind, experiment with mixology, and entertain friends and family. There's nothing better than sharing a drink in the cosy familiarity of your own home, especially when you have all the spirits, mixers, garnishes and gadgets to host the perfect happy hour. 
To learn more about the perfect whisky for your at-home bar, please visit: https://www.tricarragh.com/second-release/  
Sources:
Search term data for the term "entertaining at home' correct as of June-July 2023 (search increase of 17%).